eGrove Systems just released the next version of Elite mCommerce, which will make it easier to create cross-platform apps and enhance the user experience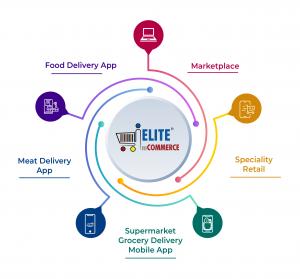 EAST BRUNSWICK, NEW JERSEY, USA, April 6, 2023/EINPresswire.com/ — Elite mCommerce, or EMC, is proud to show off its innovative range of ready-made mobile app solutions for a wide range of industries, from grocery stores to retail stores, restaurant food delivery services, grocery delivery services, and so much more. Recently, eGrove upgraded its ready-made mobile app development solution to Flutter so that it can reach its full potential by March 2023. Flutter is a single code base for mobile applications on Android and iOS that are natively compiled.
How do we leverage Flutter for delivering mobile app development services?
Flutter has experienced a major boom in its overall popularity over the past few years, especially across the US market. According to a well-known survey, about 42% of cross-platform app developers on the market use Flutter.
Flutter is an open-source mobile user interface (UI) framework for making the best native interfaces for Google Fuchsia, Android, and iOS. The library is made to combine platform integration and the performance of native mobile apps. It does this by taking a multi-platform approach and using UI tool kits to make it easy to make mobile apps quickly. We use Flutter for developing Android and iOS apps with the help of a single codebase. Moreover, the Flutter mobile applications we develop are faster and deliver smoother performance. With a shorter go-to-market time, Flutter applications are great for MVP development.
As eGrove Systems uses Flutter to build mobile apps, they try to put its many benefits at the top of the list throughout the whole process:
Faster responsive application development.
Can leverage a single programming language and a single code-base to come up with different apps—both for Android and iOS.
Maintaining code and fixing bugs are seamless processes.
Flexible and easy integration along with new customization.
Expansive widget libraries make it simpler to build applications without the need for extensive coding.
Best-in-Class Elite mCommerce Products to Improve Online Presence.
Elite mCommerce, or EMC, offers a wide range of services to help e-commerce businesses improve their overall online visibility, in addition to services for making Flutter apps.
Some of its comprehensive range of IT services include:
Marketplace Development:
With EMC, businesses can get access to a multi-vendor marketplace website and mobile app ready within a span of one week. The experts at EMC make market-focused websites and mobile apps that can compete with the best platforms in the world.
E-commerce Development:
The app developers at EMC guarantee that they will make very smart mobile apps for a number of online retailers. The app development platform also gives access to a wide range of high-end features, such as a mobile store theme builder, business-intelligent push notifications, Google Analytics integration, deep linking, and much more, to improve the performance of e-commerce mobile apps.
Supermarket Grocery Delivery Mobile App Development:
With the help of interactive grocery mobile app development services, EMC helps businesses in the grocery delivery business improve their overall return on investment. The app builder comes with a wide range of features, such as a mobile store theme builder, business-smart push notifications, multilingual support, multi-store management, white labelling, and deep linking, to make grocery delivery apps work better.
Meat Delivery App Development:
EMC also wants to help companies in the meat and seafood industries change their online marketing goals. As the modern meat retailing business keeps changing quickly, more and more customers are using high-end technology and prefer premium products and services from meat delivery services.
Food Delivery App Development:
Restaurants can now think of taking their online business to the next level with the best-in-class food delivery mobile app development services by EMC. With the help of interactive mobile apps made by the professional mobile app development team at EMC, a restaurant owner can make it easy for customers to order food online and have it delivered right to their door.
About eGrove Systems:
The eGrove system is a pioneer in e-commerce, website optimisation, and digital marketing. eGrove is based in New Jersey and gives clients the best solutions for their needs and industries. This makes it easy for them to reach their business goals. eGrove is an ISO 9001:2015 QMS and ISO 10002:2014 Customer Satisfaction Management certified organisation.
Amazing things will happen when your business becomes more customer-centric!"
— Krish Govindaraj, CEO
Statista- https://www.statista.com/statistics/869224/worldwide-software-developer-working-hours/
Public Relations
eGrove Systems Corporation
+1 732-307-2655
email us here
Visit us on social media:
Facebook
Twitter
LinkedIn